Under the Thai Foreign Business Act ("FBA"), A.D. 1999, foreigners who engage in certain business sectors, including any service business, require a Foreign Business License ("FBL") to legally operate.
Restricted businesses may obtain a Foreign Business License ("FBL") to operate legally. Such an FBL may be granted in the form of permission to operate as a representative office.
1. Permitted Scope of Activities
A representative office, according to the FBA, can be set up for the following scope of business only:
• The business is to source goods or services in Thailand for the headquarters overseas (procurement);
• To check the product ordered by the headquarters abroad (quality control);
• To give advice to the headquarters about the goods to order;
• To supply the information about the headquarters' products to the distributors and customers in Thailand;
• To report about the economic movement in Thailand to the headquarters.
The representative office may not generate revenue and accept purchase orders, make sales offers or engage in business negotiations with any person.
2. Eligible Businesses
Please see the general criteria for granting a foreign business license as a representative office as follows:
• No income from its service and it is not subject to tax under the Thai Revenue Code, except the remained saving money received from the representative office will be calculated for corporate income tax payment;
• Expense of operation cost will be funded by the head office only;
• Cannot take order to buy or sell with individual or juristic person in the country of such rep office to be set up;
• Can provide service to the group or affiliated company; however, no remuneration shall be supplied;
• Required to prepare financial statement according to Accounting Act B.E. 2000.
3. Application Process
Estimated timeframe for application process: 3 months (or more depending on workload and efficiency of officer)
Overview of the process: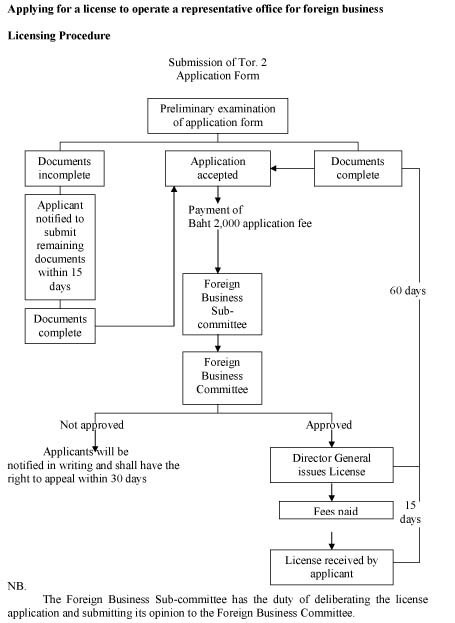 Fees:

1. Application fee: 2,000 THB
2. License:
a) Natural person: 20,000 THB;
b) Juristic person: 5 THB for every thousand baht of the registered capital subject to a minimum fee of 20,000 THB and a maximum fee of 250,000 THB; the amount over 1,000 THB shall be deemed as equivalent to 1,000 THB.
3. Application to inspect or make copies of documents: 200 THB per application.
4. Request for the registrar to make copies or photocopies of documents and affix a certification: 100 THB per page.
5. Application for a certification of the contents deposited by the Registrar: 100 THB per item.
For further information and how to apply please contact: info@franklegaltax.com