Seminar on BOI Promotion for Tech Startups, Bangkok, 22 October 2020
September 11, 2020
---
*** Invitation Only ***
FRANK LEGAL & TAX is pleased to announce that our upcoming event, themed "BOI Promotion for Tech Startups", will be held on 22nd October 2020 at 6.00 pm at The Great Room, Gaysorn Tower.
To restart activities after the COVID-19 restrictions, our company would like to provide an opportunity to explore the BOI promotions related to the tech industry in Thailand. Our experienced lawyers will be starting with a big-picture view of foreign business licensing in Thailand, which will be followed by insights into the various BOI categories that are relevant to IT, software development and tech business.
Our Speakers:
Fabian Doppler – Managing Partner
is the founder and Managing Partner of FRANK Legal & Tax. He is a licensed attorney from Germany where he actively practiced law before coming to Thailand in 2005.
Rangsarit Suwanarat – Partner (Corporate Law)
is Thai attorney and Partner at the firm. He focuses his practice on corporate and commercial law, as well as foreign direct investment.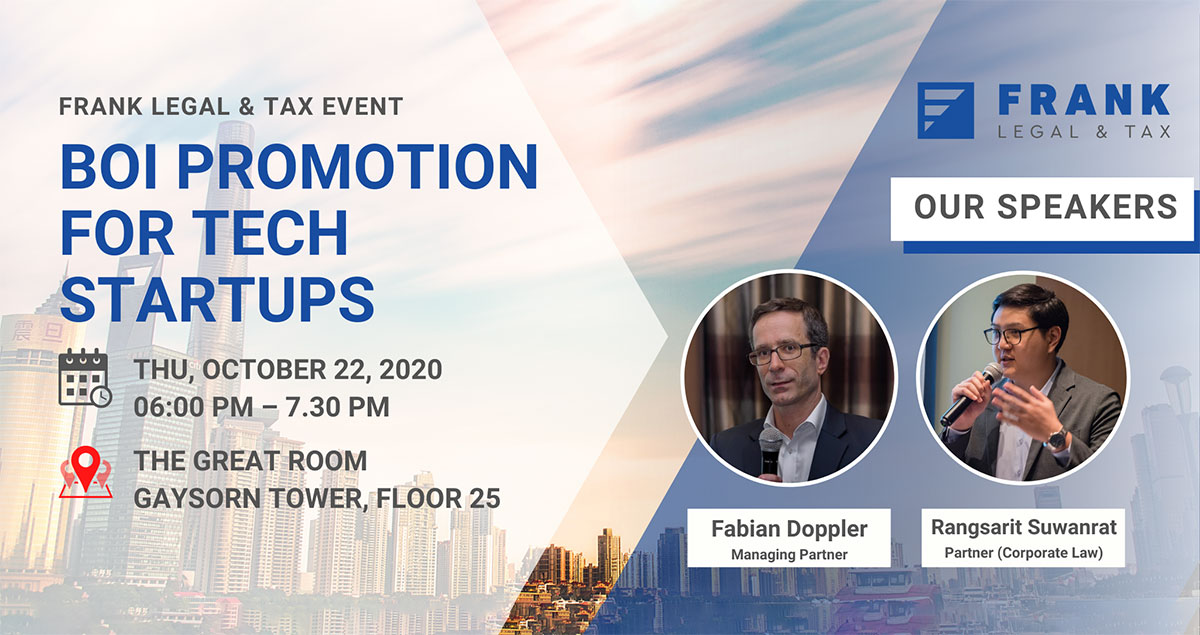 The admission fee will include:
Presentation by our experienced lawyers
Possibility to ask questions
A fine selection of finger food
Free soft drinks
Event data and Information:
Date/Time: Thurday 22nd October 2020, 06.00 PM – 07.30 PM
Location: The Great Room Gaysorn Tower, Floor 25th  (see Google Maps: https://g.page/thegreatroomthailand-gaysorn?share)
Entry fee: 800 Baht net / pers. including snacks and non-alcoholic beverage
**Spots are limited to 20 persons for this event, the event is held on "invitation only" basis.

If you have any question for the event or sign up the event directly, please feel fee to contact us [email protected] or [email protected]
---
Share