FRANK Legal & Tax is pleased to invite you to our "Briefing on Long-Term Resident (LTR) Visa" with STCC
October 12, 2022
---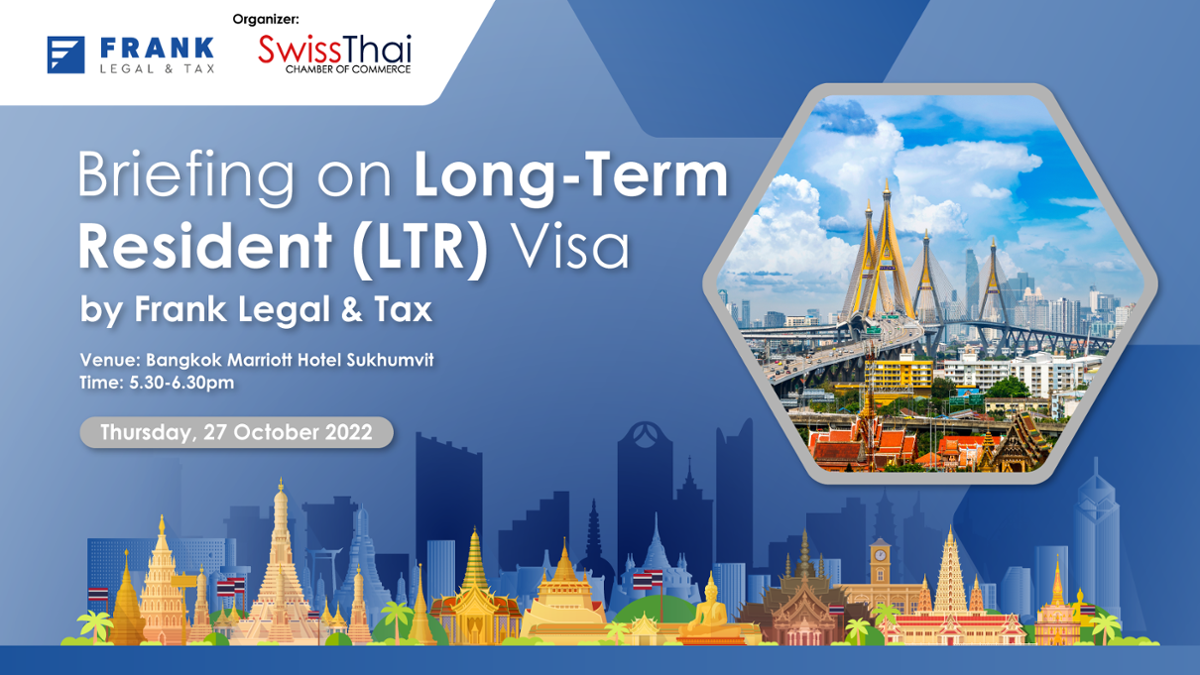 Join us at the 'Briefing on Long-Term Resident (LTR) Visa' in Bangkok on Thursday, 27 October
Thailand has introduced a new 10-year long-term resident visa for foreigners. In this special SwissThai Chamber of Commerce (STCC) 'Briefing on Long-Term Resident (LTR) Visa', we will look at the new visa, and its multiple benefits for holders, including:
An extendable 10-year visa;
The reduced requirement to report to immigration only once a year instead of the standard 90 days;
Fast-track service at international airports within Thailand;
Multiple re-entry permits;
Authorization to work in Thailand (for certain categories, via a digital work permit);
Reduced personal income tax rate of 17% for highly skilled workers (for certain categories);
Exemption from the four Thai nationals to one foreigner employment condition ratio.
Our legal team will also explore who can apply and how to submit an application.
The briefing will be held at the Bangkok Marriott Hotel Sukhumvit on Thursday, 27 October, from 17:30 – 18:30. Please register here
We look forward to meeting you at the event.
For more information on the LTR visa, please visit https://franklegaltax.com/thailand-long-term-resident-ltr-visa/ or contact [email protected]
---
Share