FRANK Legal & Tax Featured in Thailand Starter Kit (ExpatDen) guide
April 30, 2018
---
We are delighted to have been featured in the well-respected professional blog Thailand Starter Kit (ExpatDen), in their recommended lawyers section.

The two guides FRANK Legal & Tax are featured in highlight how to select a first-class lawyer in both Bangkok and Phuket.

Thailand Starter Kit was created with the intention to share know-how and experiences to make life easier for anyone looking to move, live and work in Thailand. It has since grown to be a renowned guide for anyone looking for information about services and life in Thailand.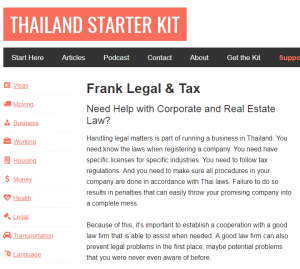 The ethos of the publication is to provide free and unbiased guides for people who looking to live, work, retire or start a business in Thailand.

At FRANK Legal & Tax, we understand the importance of our legal and tax advice for the business decisions of all our clients, in Thailand and further afield.

We have expertise in all areas that are important to small and medium-sized businesses. Furthermore, in particular our Phuket offices specialize in real estate matters and offer in-depth expertise on an international level, for both real estate developers and buyers of property.

Please don't hesitate to contact us for inquiries at [email protected]
---
Share