"HIGH" Standards in Thailand; Regulations to Unlock Cannabis Industry
November 16, 2022
---
In the wake of shared global challenges, tourism and green growth is the way forward for Thailand's sustainable economy. Specifically, a relevant government panel has set up a plan to develop the country as an international hub and targeted Thailand as the world's foremost destination for the medical industry and wellness tourism. Still, a dream without a plan is just a wish. In response, the legal scheme to transform Thailand into a comprehensive medical hub was initially implemented. Cannabis liberalization will further strengthen Thailand's position as a global medical hub with affordable healthcare.
In driving Thai economic sustainable development forwards, the Ministry of Public Health of Thailand (MOPH) has refined re-emerging health aid. On 14 December 2020, MOPH announced the notification on the specification of controlled narcotic drugs under category 5, B.E.2563 (2020), to remove some parts of cannabis and hemp from category 5 under Narcotics Act B.E.2522 (1979). The following components of cannabis and hemp, as well as a substance derived from those parts, do not constitute narcotics under such regulation:
Bark, Stalk, Fiber, Branches, and Roots;
Leaves (excluding cannabis flower and bud);
Extracts that have tetrahydrocannabinol (THC) not exceeding the capped amount, i.e., 0.2 percent by weight.
Residue from cannabis extract, which THC is not over 0.2 percent by weight.
Hemp seed, hemp seed oil, or hemp seed extract.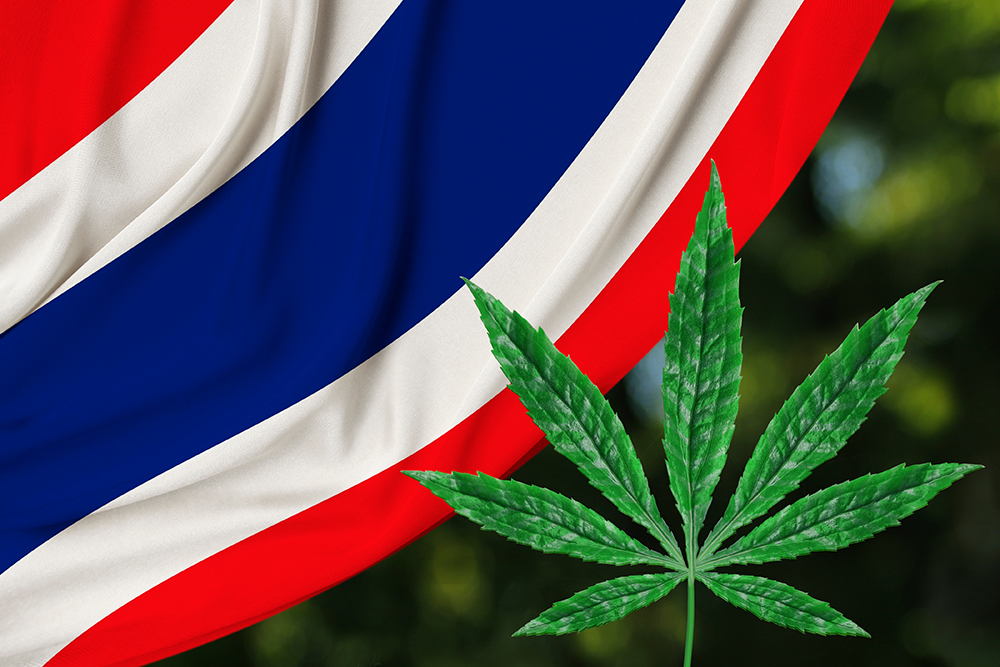 9 June 2022 marks a thoughtful day of observance of the cannabis industry in Thailand; the government of Thailand has delisted "all" parts of cannabis and hemp from banned narcotic lists under the notification of specification of controlled narcotic drugs under category 5, B.E.2665 (2022). Under this "Standard", all cannabis and hemp "extracts" remain considered narcotics, except for the following:
Extracts that have THC not exceeding the capped amount, i.e., 0.2 percent by weight, for which permission to extract from cannabis or hemp plants grown in Thailand has been obtained; and
Extracts from seeds of cannabis or hemp plants grown in Thailand.
Following the recent official decriminalization of cannabis and hemp, this transformation would enable the widespread of herbal medicinal cannabis treatments and marijuana-infused food. Specifically, traditional cannabis cuisine will officially be back on the menu. For educational purposes, this would allow more laboratories to grow cannabis and hemp without an overwhelming loss its resources for approval from relevant authorities. Importantly, using parts of cannabis and hemp plants would not constitute a violation of this legal standard. Although Thailand legalized growing cannabis and eased such consumption rules, smoking cannabis in public may be considered a public nuisance and remains unauthorized. Moreover, the importation, exportation, and distribution of cannabis and hemp parts, as well as its derived products containing THC over 0.2 percent by weight, remain stringently controlled by relevant specific laws, including the Plant Quarantine Act B.E.2507 (1964) and Plants Act B.E.2518 (1975).
In the light of laws and economic junctions, it is worth noting that although such continuing steps for unlocking the cannabis industry have been done, many relevant activities pertaining to the usage of cannabis and hemp will be monitored by newly enacted legislation thereafter, i.e., the Cannabis and Hemp Act. The law will then act as the detailed regulation framework and seal off remaining legal loopholes for the following activities relating to cannabis and hemp;
Manufacture, including Cultivation, Modification, and Packaging for Commercial Purposes;
Import and Export; and
Sale and Possess.
Specifically, under this upcoming regulation, any person who wishes to pursue the above-mentioned activities shall obtain the required license from relevant authorities. The forthcoming legislation will also impose legal limitations for avoiding the abuse of cannabis and hemp in children (under age 20) and pregnant or lactating women.
Amid a shifting legal landscape and future outlook of cannabis and hemp markets, we would be happy to guide you through successfully accessing this developing market with safety compliance with regulations. Please do not hesitate to contact us if you have any questions at [email protected]


Nathathai is a senior Thai attorney specializing in corporate and commercial law, with expertise in contract negotiations, cross-border transactions, compliance, and regulatory matters.
---
Share