Comments Off

on Personal Income Tax rates reduced effective 2013
On 18 December 2012, the Thai cabinet approved reductions of the personal income tax rates, to take effect at the beginning of the fiscal year 2013.
The previously five income tax brackets are being expanded into now eight brackets by adding tax rates of 5%, 15%, and 25%. The top marginal tax rate decreases slightly, from previously 37% to now 35%. This applies for net taxable income of THB 4 million or more. The tax exemption for low salaries of less than THB 150,000 remains as it is.
This is the first major change of PIT rates for approximately 20 years. According to the Bangkok Post, details of the new tax rates are as follows: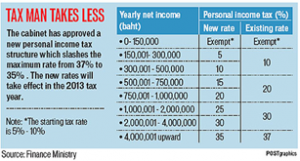 Accordingly, the changes will reduce tax rates for individual taxpayers in all brackets and are expected to cut the government's tax revenue by THB 25 Billion in the fiscal year 2013. The reduction is aimed at increasing consumption and boosting the domestic economy in the long run. The opposition Democrat party, however, criticized the changes as being tax cuts for the rich.
The income tax overhaul will also allow married couples to file their tax returns separately, a move that will save households money, but will trim around THB 7 Billion from government revenues.
A legislative act to amend the Revenue Code will have to be passed by the parliament within March 2014, so that the new rates can take effect for the 2013 tax return to be filed in 2014.