Comments Off

on Bangkok Property Market Performs Strongly in 2017
In Q4 2017, the Bangkok condominium market grew steadily, particularly in the downtown area of the city. The number of new properties launched in 2017 overall also grew year on year by, with a 51% increase compared to 2016. Bangkok's condominium market is likely to continue to grow in the future, given the many new mass transit lines and pipelines under construction (for example the MRT Pink Line, MRT Yellow Line and MRT Orange Line).
Land prices and the lack of remaining downtown new development space has opened the way for new locations to become up and coming property hotspots. Projects that are in prime or new locations with appropriate pricing to compliment market demand continued to performed well.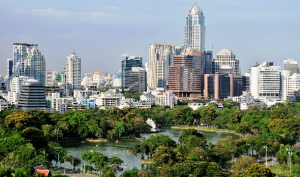 Due to the high proportion of units from projects that have been sold and that have been completed since 2014 in the downtown area, there does not currently appear to be a risk of oversupply in the area. Increasing land costs are a central factor that has resulted in price increases. More projects are opening up in new areas due to the construction of the approaching transport connections.
During the past one to two years, the average selling price of new condominium units has continued to rise at approximately 15–20% annually. Condominium prices are expected to increase similarly next year, particularly in in the downtown area.
Expatriates work permits in Bangkok increased 1.3% Quarter on Quarter and 3.1% Year on Year. Typically, expatriates have favoured certain areas and this continues to be the case, particularly the Sukhumvit, Silom/Sathorn and Central Lumpini areas, due to their easy access to the BTS Skytrain, along with convenient shopping and dining options.