Comments Off

on Fabian Doppler speaks at TechGrind Ventures Syndicate at Shangri-La Hotel, Bangkok
Fabian Doppler of FRANK Legal & Tax, Bangkok spoke at TechGrind Ventures Syndicate, an exclusive investor syndicate of Southeast Asia's most experienced Serial Entrepreneurs, Angel & Early-Stage investors. The topic of the presentation which took place on 8 August 2015 was: Foreign Investment in Thailand – Legal Restrictions and their Workarounds.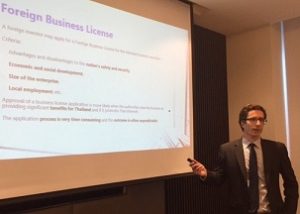 The TechGrind Ventures Syndicate is a premier bi-yearly workshop & boot camp for Angel & Early-Stage venture investors in South East Asia. Its mission is to create a vibrant, connected, cooperative & well-educated investor community for Angel & Early-Stage investments in South East.
The question and answer session of Fabian's presentation focused on BOI promotion, taxation issues and specific requirements of representative office establishment by foreign nationals in Thailand.